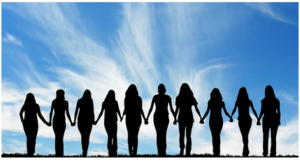 Welcome! We are an open-minded group, willing to share, listen and support each other, meeting in a neutral, peaceful place. There is no charge to attend this supportive environment where we discuss subjects that will guide, enlighten, educate and amuse.
Meetings are held on the 3rd Wednesday of the month at LaSalle Retirement Community  18 Plains Road West, Burlington from 7.30pm to 9.00pm. Please register your place as seating is limited.
Next meeting date:   MARCH 18 CANCELLED

Venue changed to RE/MAX REAL ESTATE CENTRE, 720 Guelph Line, Burlington (corner of Guelph Line & Prospect St)
Life as a Reluctant, Yet Successful, Entrepreneur
Our next guest speaker is Kathy Thomas, President of Green Thumb Landscaping Limited. Kathy will lead an engaging presentation on how she reluctantly became an entrepreneur, heading up a successful landscaping company in an industry that is predominantly a male environment.
Come be inspired by this farm girl turned mogul who, like the company's landscapes, will leave a lasting impression.
About Kathy
Kathy is one of the earliest 'pioneer' females in the landscaping industry, taking over for her husband who passed away suddenly in 1993. Integrity, reliability and constant learning along with pride in training staff to do their best has created a solid basis for the company. Kathy's entrepreneurial spirit led her to open another successful business, The Bronze Frog Gallery in Oakville in 2003.
Her career journey has been challenging at times yet she is having trouble retiring; don't miss the amazing story of love, leadership and learning.
Previous Meetings:
Wednesday February 19, 2020 – Zero Waste Lifestyle – Reducing Plastic One Bottle at a Time with guest speaker Koby Hicks, co-founder of the Refillery Market
Wednesday January 15, 2020 – Rescue, Reuse and Refuse – Strategies to Eliminate Single Used Items – with guest speaker Sabine Atkins, the organizer of Waterdown Boomerang Bags
Wednesday November 20, 2019 – Changing the Conversation – Woman Abuse Knows No Boundaries – with guest speaker Carm Bozzo, Manager, Development and Communications at Halton Women's Place
Wednesday October 16, 2019 – Dying to Go Green – with guest speaker Sarah Sunnucks, Preplanning Funeral Director with Smith's Funeral Homes
June 5, 2019 – Women and Wealth – with guest speakers BobbieJoe Babiak, CPM, Financial Advisor with Hamel Wealth Management Group | Manulife Securities and Lauren Smith, CIM, Regional Vice President with TD Asset Management
April 17, 2019 – All About Buying/Selling on Consignment  with Maureen Van Impe Barnes, owner of The Millionaire's Daughter
March 20, 2019 – How to Deal with Clutter with Rose Ritchi from Organize Me Please
February 20, 2019 – The Benefits of Mindful Eating with Kerri Sherk, RD from The Fitness Firm
January 16, 2019 – What You Need to Know About Wills and Estate Planning with Carly Deboni, Lawyer
November 21, 2019 – Benefits of Chiropractic for Wellness and Injury Prevention with Dr. Lauren Stewart DC
October 17, 2019 – Nature and Wellness for All with Barbara McKean, Head of Education, Royal Botanical Gardens