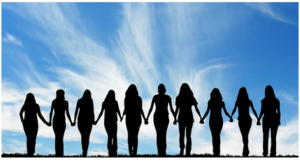 Welcome! We are an open-minded group, willing to share, listen and support each other, meeting in a neutral, peaceful place. There is no charge to attend this supportive environment where we discuss subjects that will guide, enlighten, educate and amuse.
Meetings are held on the 3rd Wednesday of the month at LaSalle Retirement Community  18 Plains Road West, Burlington from 7.30pm to 9.00pm. Please register your place as seating is limited.
Next meeting date:   Wednesday November 20, 2019   Register Your Place

Changing the Conversation – Woman Abuse Knows No Boundaries
November is Woman Abuse Prevention Month. Join us as we welcome Carm Bozzo, Manager, Development and Communications at Halton Women's Place who will share information about this important issue.
Woman abuse can – and does – happen in all communities – even Halton. With two shelters operating at over capacity this past year, Halton Women's Place knows this better than anyone. The issue of woman abuse is very relevant to our community with 52 beds available on a daily basis across the region.
Join us for this presentation to find out
1) Statistics about woman abuse and what are the signs are
2) The programs and services that Halton Women's Place provides
3) How you can get involved
4) What is next for Halton Women's Place
About Carm Bozzo
Carm Bozzo has been with Halton Women's Place for 15 years leading their events and advocacy efforts, while also working with donors and supporters.
Carm is also the host of the YOURTV Halton show, Halton Women's Place, that talks about the issue of woman abuse through personal stories and partnerships. The show airs every Thursday night at 7pm.
When she doesn't have her fundraising hat on, Carm is the mother of 2 boys – aged 11 and 13 and is a devout hockey and football mom, making sure she is at every game. She is raising them to be a part of the solution in ending violence against women by keeping them up to date on the issue of gendered violence and in equality. Carm also has a passion for fitness and wellness and teaches boot camp three early mornings a week and runs a health and wellness weight loss challenge through a closed Facebook group.
Previous Meetings:
Wednesday October 16, 2019 – Dying to Go Green – with guest speaker Sarah Sunnucks, Preplanning Funeral Director with Smith's Funeral Homes
June 5, 2019 – Women and Wealth – with guest speakers BobbieJoe Babiak, CPM, Financial Advisor with Hamel Wealth Management Group | Manulife Securities and Lauren Smith, CIM, Regional Vice President with TD Asset Management
April 17, 2019 – All About Buying/Selling on Consignment  with Maureen Van Impe Barnes, owner of The Millionaire's Daughter
March 20, 2019 – How to Deal with Clutter with Rose Ritchi from Organize Me Please
February 20, 2019 – The Benefits of Mindful Eating with Kerri Sherk, RD from The Fitness Firm
January 16, 2019 – What You Need to Know About Wills and Estate Planning with Carly Deboni, Lawyer
November 21, 2019 – Benefits of Chiropractic for Wellness and Injury Prevention with Dr. Lauren Stewart DC
October 17, 2019 – Nature and Wellness for All with Barbara McKean, Head of Education, Royal Botanical Gardens